All Sales Final, No Refunds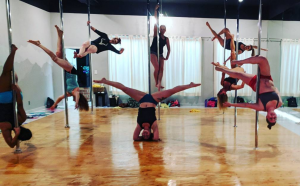 Single Rate Class: $25
6 Class Pass $125, ($20.83 per class) expires 60 days after day of purchase
12 Class Pass $215, ($17.92 per class) Expires 90 days after day of purchase
Membership: Unlimited Classes $155 per month
Become a member and have access to unlimited classes. $155 per month, 10% OFF all merchandise, 10% OFF private instruction, and 50% OFF on in house instructor workshops~ contract requires a minimum of 3 months, and it automatically renews. 30 day advanced written notice is required for cancellation, there is a required form in the studio for cancellation. You are required to dance at your level or below.
Private Instruction-
Private or Semi private instruction available . Cancellation or rescheduling must be done 12 hours prior to your scheduled lesson. Payment is required when booking.
60 Minute Private Instruction Individual – Semi Private – Review, practice, or get caught up on your current leveled class w/ the instructor of your choice. Levels 1-7 Contact us for pricing
60 Minute Private Instruction to move into an advanced level Individual, Semi Private- Contact us for pricing Pole Perfection levels and up or advancing levels
Private series, 6 private 1 hour lessons for Contact studio for pricing
Personal Training, 6 1 hour sessions, contact studio for pricing