OPEN HOUSE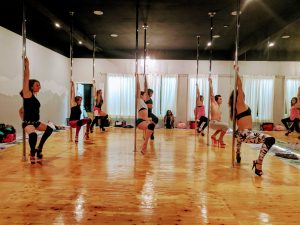 Join our SEXY, SOULFUL, SISTERHOOD for a special day on us! Come see our beautiful studio and dance. We will be offering free demonstartion classes, huge discounts, raffles, and more! Come ready to participate! Wear leggings, sweats, t-shirt, or a tank top. SPECIAL DISCOUNTED CLASS PASSES ARE ONLY OFFERED DURING THE OPEN HOUSE, MARK YOUR CALENDAR!
Classes are offered on a first come, first served basis. You'll get to pole, twerk, strip tease, and more!
June 2, 2018, 2-5pm — FREE EVENT!